The Rainbow Man
Posted by Claudia on Nov 19th 2015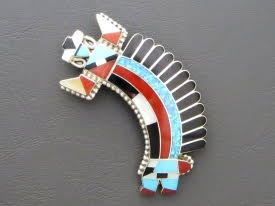 The Rainbow Man, also sometimes referred to as the Rainbow Dancer, is a sacred Zuni Indian guardian spirit identified with the life giving summer rains and the colors of the rainbow after the summer's rain.
Multi Gemstone Inlay Rainbow Man Pendant & Brooch by Zuni Artist, Fabien Bowannie
Although the Rainbow figure is not a Kachina, he is very important in Zuni traditions, culture and society. The Rainbow Man is a symbol of protection often seen on the Zuni's war shields and is a symbol of the rainbow which represents the life sustaining rains for their agricultural importance in the arid American Southwest.
The Rainbow Man was one of the first figures used in traditional Zuni mosaic inlay jewelry. Various Zuni Indian artists started creating mosaic inlay jewelry featuring the Rainbow Man in the 1920's to the 1940's and becoming popular by the 1950's. It is believed that the first creator of the Rainbow Man in Zuni inlay jewelry to be Alonozo Hustito (1903-1987).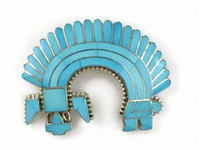 Sleeping Beauty Turquoise Inlay Rainbow Man Pendant & Brooch by Fabien Bowannie, Zuni Indian
The Rainbow figure is most often depicted with an arched or curved back resembling the shape of the rainbow usually horizontally. He also appears standing up, vertically, a design variation that is contributed to by Zuni artist, Bowman Paywa (Pewa) 1913-2002. The Rainbow Man wears a kilt and a tablita or terraced cap on his head. He can be inlaid with the traditional Native American gemstones of turquoise, mother of pearl, black jet and red coral or with more contemporary gemstones such as spiny oyster shell, lapis and malachite.
It is fascinating to see the wide variety of designs of the Rainbow Man created in Zuni jewelry. Creating jewelry and carvings has been the main source of revenue for the Zuni Pueblo. Most of the Zuni artists work as family units in rooms of their homes or small workshops beside their homes. Working in such a close-knit community, the Zuni artists take great pride in their lapidary skills and also do not want to imitate someone else's work. The diversity of the designs of Rainbow figure reflects the creativity of each individual artist and their personal, cultural experience. The colors and stones used are from each individual artist's perspective and interpretation. And, the Rainbow Man can be featured in different styles of inlay such as mosaic overlay, mosaic inlay and silver overlay with mosaic inlay jewelry. The Rainbow figure design is displayed in Zuni inlay rings, pendants, brooches, bracelets and squash blossom necklaces.
In Zuni society it is important for each individual to excel in one's own artistic endeavor. Each piece has a cultural significance. As of today, there are not very many Zuni Indian artists that specialize in creating inlay jewelry portraying the Rainbow Man, so finding a beautifully crafted piece can be a collectible form of Zuni Indian art.