Sleeping Beauty Turquoise
Posted by Claudia on Jan 30th 2015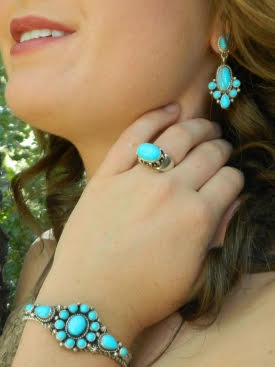 What Is Sleeping Beauty Turquoise?
Sleeping Beauty turquoise has been revered by man for its ideal, clear, robin's egg blue color. The Sleeping Beauty turquoise mine has been one of the largest producers of high-quality turquoise in the world. The Sleeping Beauty turquoise mine located in Globe, Arizona has produced a compelling, clear sky-blue gem that has matched or surpassed the foremost mines of Persian turquoise. Sleeping Beauty turquoise has been sought after around the world for use in jewelry, trade and adornment.
Why Is It Called "Sleeping Beauty Turquoise"?
Sleeping Beauty turquoise received its name for the previously named mountain range that sits beyond in the distance that resembles a profile of "sleeping woman". The turquoise mine is an open pit mine that can be "picked". A thousand years ago, the ancient Native American, the Anasazi, mined and used turquoise from this mine for trade and the making of jewelry adornment. In more recent times, Sleeping Beauty turquoise has been the turquoise stone of choice for the Zuni Pueblo Indians for use in their delicate, hand-cut, turquoise needle point, petit point, and inlay jewelry.
Southwest Silver Gallery Sleeping Beauty Earring Pieces
Why Sleeping Beauty Turquoise Is So Rare!
The mine has, also, been used in the mining of gold and copper in the last century. Due to the substantial rise in copper prices, the mine has now been closed since the fall of 2012 to any turquoise mining and in part due to insurance liability reasons. Whatever we have on the market today is what we have left at this time. Thus, the demand for Sleeping Beauty turquoise has risen quite substantially for stone buyers around the world, especially in the Asian and European markets. The cost for the high quality, sky-blue turquoise with little to no matrix is exceeding $3 a carat as of today. Sadly to say, the cost of Sleeping Beauty turquoise for our Native American jewelry artists has risen and reflects the price we are seeing today for the desired sky-blue turquoise in Native American jewelry.
Sleeping Beauty turquoise has become quite legendary in its own right. In essence, it is the "beauty" of turquoise jewelry.