Contemporary Turquoise Jewelry | Modern Style with Historic Roots
Posted by Claudia on Mar 13th 2016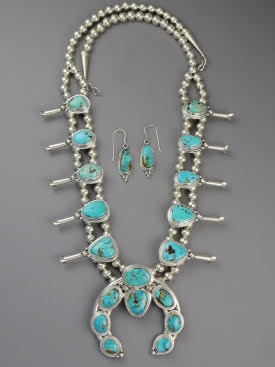 Turquoise jewelry has held a special place in the hearts of Native Americans for centuries. Today, it's become increasingly popular in the fashion world. Today's contemporary turquoise jewelry continues to carry on that proud tradition, boasting impeccable craftsmanship, unique traditional designs, and a blend of elegance and flash that makes American Indian jewelry surprisingly versatile.
While turquoise jewelry is a fairly new trend among today's trendsetters, there is an incredible amount of history behind each and every piece. At the same time, Native American jewelry making is far from over. In fact, there are many incredibly talented Native American artists who continue to elevate the craft to new heights.
Let's take a look at contemporary turquoise jewelry, its history, some of the noteworthy tribes and artists who are currently pushing the envelope, and much more.
Why Turquoise Jewelry Is on the Rise
When you think about it, it's really not surprising that authentic Native American jewelry is making such a comeback in recent times. After all, some of the most distinctive jewelry in the world has been handcrafted by Native Americans from tribes like the Hopi, Navajo, Zuni, and Santo Domingo. Regardless of your personal opinion on contemporary turquoise jewelry, it's impossible to deny the level of skill and dedication that goes into each and every piece.
Besides the exquisite attention to detail that has made Native American jewelry famous worldwide, turquoise jewelry is simply luminous and enigmatic. There's something about the blend of the blue-green stone and silver or gold that exudes elegance, while still retaining distinct cultural identities. Turquoise jewelry is versatile and can be worn effortlessly with a casual outfit or formal attire – it simply depends on the wearer's approach. Turquoise rings, bracelets, earrings, and necklaces are often some of the most versatile pieces in a jewelry collection.
Fashion-forward people often look to the past for inspiration, and few styles are as iconic as Native American designs. American Indian patterns from blankets and tapestries have become increasingly popular among today's stylish tastemakers, so it's not surprising that contemporary turquoise jewelry would become more desirable too. Authentic Native American jewelry satiates the common desire to connect to the past while still looking towards the future.
The Symbolism of Turquoise Among in Native American Tribes
Turquoise is a sacred material among the Southwestern Native American tribes. It was often used as a currency, for collateral in long-distance trades, and as a talisman for good fortune and protection. In particular, the Navajo, Hopi, Zuni, and Santo Domingo tribes revered the stone and used it to create one-of-a-kind wearable treasures. Here's a quick look at each tribe and the symbolism that turquoise jewelry has to them.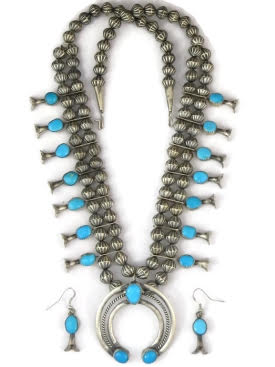 Famous for their squash blossom necklaces (pictured left) and inlay rings, turquoise symbolizes happiness, health, and good luck to the Navajo People. The squash blossom necklace features a symbol that resembles an upside-down horseshoe. The Navajo people called this a "naja," although the symbol has been used in various cultures across the globe since the ancient times.
The beads on squash blossom necklaces were made to imitate the buttons that held together the pants of the Spanish settlers, and eventually the Mexican caballeros, which were actually modeled after pomegranates, not squash blossoms. Today, squash blossom necklaces are one of the most popular contemporary turquoise jewelry styles.
Hopi jewelry artists were – and still are – known for their incredibly intricate overlay silver designs. Silver overlay jewelry is made by fusing two complementary silver pieces together to create one piece with exceptional depth and detail. Some of the common traditional symbolism found on Hopi jewelry include weather, cornstalks, and bear claws.
The Hopi also used symbols such as the man in the maze – a symbol that represents the experiences and choices made on the journey of life – as well as Kokopelli – a hunchbacked, dancing flutist who represents the spirit of music.
The Zuni people are known for their outstanding intricate stonework that continues to define their remarkable contemporary turquoise jewelry. Needlepoint is one common technique that features tiny needle-shaped stones, and petit point uses tiny oval, round, rectangle, square, or pear-shaped stones to create unique patterns. The Zuni are a deeply religious people, and they hold nature, animals, and their ancestors in extremely high regard.
The Santo Domingo jewelry artists are famous for their "heishe" necklaces (pictured below). Heishe is the Santo Domingo word for shell and refers to a thin, rolled bead crafted from shell, turquoise, or coral. The Santo Domingo people are known for holding tight to tradition, and their jewelry is no exception. As such, the Santo Domingo artists don't usually carve detailed models of living beings, due to religious beliefs. However, some Santo Domingo fetish jewelry does feature stylized birds.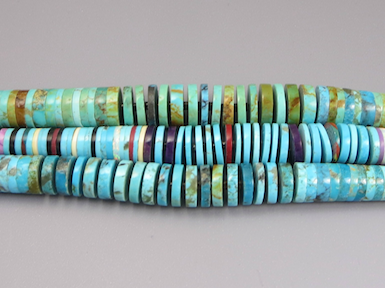 Popular Native American Jewelry Artisans
There are far too many current, talented Native American artisans to list all of them, but here are a few contemporary designers creating innovative jewelry:
Geneva Apachito is a Navajo designer and silversmith who creates truly stunning works of art. She was raised on the Alamo Navajo reservation in Socorro, New Mexico, where she learned silversmithing from her talented mother and father, Genevieve and Raymond Apachito.
Stewart Alonzo is a Navajo artist who creates unique fetish carvings, specializing in heart-lined tabletop fetishes. He also crafts animals such as eagles, wolves, coyotes, sheep, rams, bears, and buffalo. Alonzo is self-taught, and he has been mastering his craft over the course of 15 years. Although he lives with his family in Ramah, New Mexico, his career has allowed him to travel all over the U.S. as a featured artist in many major arts and crafts shows.
Gomeo Bobelu is an award-winning artist from the Badger Clan and Child of the Corn Clan from the Zuni tribe. He's known for his mosaic inlay jewelry, and he's displayed his work at the Heard Museum in Phoenix, AZ.
Born and raised in Santo Domingo Pueblo, Ronald Chavez is a leader in the contemporary turquoise jewelry industry. He's been successfully carrying his family's torch for over 30 years, crafting turquoise and sponge coral slab earrings and smooth, hand-cut turquoise heishi necklaces, as well as some unique designs that incorporate a variety of gemstones.
Arnie Gasper is a Zuni artist who's known for his mosaic, channel inlay jewelry, pottery, and fetishes. His career started in the eighth grade when he made small earrings. Later his uncle, Gus Panteah, taught him how to inlay, and eventually Arnie worked for jewelry designer Ray Traci. He's especially known for his lightning bracelets, and he has won multiple awards over the years.
Duran Gasper is Arnie Gasper's brother, and also a very talented jewelry artist. His brother taught him how to inlay, and his mother Rose taught him cluster work. Like his brother, Duran Gasper worked for jewelry designer Ray Traci.
Verden Mansfield is a multiple award-winning artist from the Bear Strap Clan of the Hopi tribe. He currently resides in Shungopavi, Second Mesa, Arizona. Verden Mansfield learned silversmithing from his father. His brother, Vern Mansfield, is also an accomplished jewelry maker from the same clan and tribe.
Although she's widely respected of one of today's best contemporary turquoise jewelry makers, Kathy Yazzie's prefers traditional designs. Kathy first chooses her turquoise stone, and then designs the jewelry around it. Many of her pieces are simple so that the beautiful turquoise can be enjoyed free of distraction.
The Quandelacy Family from Zuni, New Mexico includes many well-respected jewelry makers and fetish carvers, each with their own unique skills. Ellen Quam Quandelacy is the matriarch of the family, and she's most famous for creating fetishes and channel inlay jewelry.
Although he's formally trained as a registered nurse, Santo Domingo artist Daniel Coriz has also been creating remarkable hand-cut inlay and heishe jewelry since 1989. He learned the art form from his parents, and he's currently teaching jewelry making to one of his two sons.
Common Types of Native American Jewelry
Native American designs have adorned countless wardrobes over the years. Here are a few of the most common jewelry styles that are featured heavily in traditional American Indian jewelry:
Inlay and overlay bracelets are both extremely popular types of Native American bracelets today. Inlay jewelry uses uniquely shaped stones to create mosaic patterns. In particular, the Zuni people are known for their mastery of inlay styling, creating stunning bracelets with stone patterns atop a silver backing plate.
Overlay bracelets are made by applying a slab of patterned silver over an oxidized bottom layer, often made from nickel. This creates a multi-dimensional effect with dark accents. While other tribes besides the Hopi do create overlay jewelry, the pieces don't have the thickness, texture, and designs that the Hopi artisans are known for.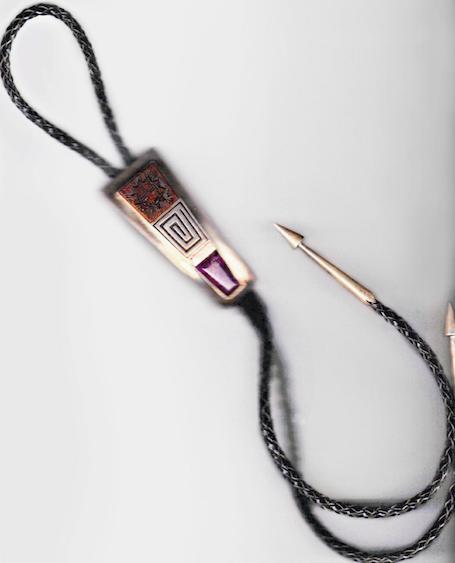 The bolo tie (pictured right) is easily one of the most instantly recognizable Western clothing accessories. In fact, in 1971 bolo ties were named the official neckwear of Arizona, and in 2007 they became New Mexico's official tie. Of course, the bolo tie's history long predates both occasions, and it's been a prominent part of Hopi, Zuni, and Navajo silversmithing culture since the mid-20th century. While they're still heavily associated with Southwestern American culture, bolo ties have spread worldwide, even gaining popularity in Korea, China, and Japan.
Belt buckles become a popular trade item in the late 1800s when the Spanish settlers introduced Navajo tribesman Atsidi Sani to silversmithing. Eventually, the Navajo people taught silversmithing to the Zuni tribe. Today, the Navajo, Zuni, and Hopi artisans all have their own unique silversmithing styles. While belt buckles are fashionable today, they were also a functional tool that was quite desirable at the time. Native American metalsmiths made plenty of other useful items such as bridles, buttons, canteens, and powder chargers.
Support Authentic Native American Jewelry
With the popularity of contemporary turquoise jewelry steadily growing, it's vitally important to support artisans and tribes that create authentic Native American art and jewelry. Buying genuine contemporary turquoise jewelry provides essential financial stability that allows these artists to continue their craft.
Aside from the economic implications for jewelry designers, it's also important to support the rich and vibrant cultures that have been around for millennia. Native American jewelry artists have passed down their family trade for countless generations, and it's a tradition that should remain viable. When you buy genuine American Indian contemporary turquoise jewelry, you can feel good knowing that you're supporting a long lineage that will (hopefully) continue for many years to come.
Add Authentic Native American Jewelry to Your Collection Today
As you can see, Native American jewelry is not just a part of history – it represents vibrant, flourishing communities of contemporary artisans. While the designs and techniques are rooted in history, today's artists are highly skilled and motivated, and the jewelry being produced today is among the finest ever created. Everyone wants to own a one-of-a-kind relic from the past, so why not buy an heirloom-quality work of art now that will continue to hold its value in the future?
Collecting contemporary turquoise jewelry is more than just a hobby. It's more than just a way to diversify your wardrobe. It's a way for you to become a part of this incredible enduring culture that we're so blessed to have access to. Purchasing authentic American Indian jewelry is a way for you to support the people who spend hours every day putting their hearts and souls into this lifelong passion.
Native American jewelry also just has a certain mystique to it. Immerse yourself in American Indian cultures, and you'll find no shortage of enchanting legends, tall tales, spiritual beliefs, ancient rituals, and so much more. Today's contemporary turquoise jewelry is simply an extension of the best aspects of those days gone by, and now you have the opportunity to be a part of it.
Contact Southwest Silver Gallery for More Information
In addition to offering some of the best authentic Native American jewelry in the world, we're proud to provide truly exceptional customer support. If you'd like more information about our contemporary turquoise jewelry, just give us a call at 1-888-476-4367, or feel free to send us a message online through our contact page. Place your order online with complete confidence today.