The Naja Pendant
Posted by Claudia on May 15th 2014
Naja Symbol Meaning
The naja is a crescent-shaped piece that is often worn alone as a pendant or as the center piece of a squash blossom necklace in Southwestern Indian jewelry. The naja design shape is thought to have originated from the Moorish and then borrowed from the Spanish that was used as an ornamental design on horse bridle headstalls and as silver decorations on men's pants.
The word "naja" is the Navajo word for "crescent". Navajo Indian silversmiths began incorporating the naja design into their jewelry. The Navajo were the main Indian tribe that made the najas, but they were also made by some Pueblo tribes as well.
Naja History
The early najas were cast or hammered pendants that were simply decorated with chiseled or stamped designs. The naja would have a bail, loop or hook to attach it to a necklace. Some naja pendants were designed with a pin clasp on back so that the pendant could be taken off of a necklace and worn as a pin or brooch on clothing. The crescent-shaped naja was mainly added as a center piece to a necklace in what has become known as the squash blossom necklace.
The naja design will vary according to the silversmiths' creative taste. There may be double or triple bars across the crescent. There may be even hand shapes at the bottom ends of the crescent which are believed to be from the Moorish representing the "hands of Fatima." Some najas will have a center decorative piece or stone that is suspended often to freely dangle. Setting stones in the naja pendant began sometime after 1880. Later, with evolving lapidary techniques, more stones were fashioned on the naja and the squash blossom necklace. The squash blossom and naja began to have lapidary styles of inlay, cluster work and needlepoint stone work.
Southwest Silver Gallery Naja Pieces
The naja pendant design is still made today by contemporary Southwest Indian artists.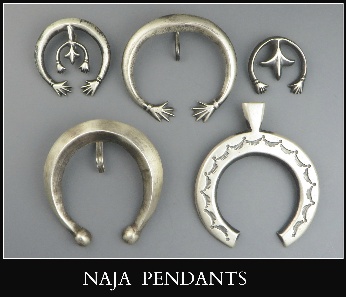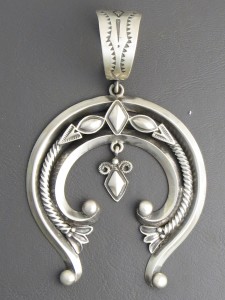 Handmade silver naja pendant with hand stamped and repousse designs. by Navajo artist, Derrick Gordon. The naja has a graceful design with a repousse silver dangle in the center.