Cleaning a Squash Blossom Necklace
Posted by Claudia on Jun 12th 2015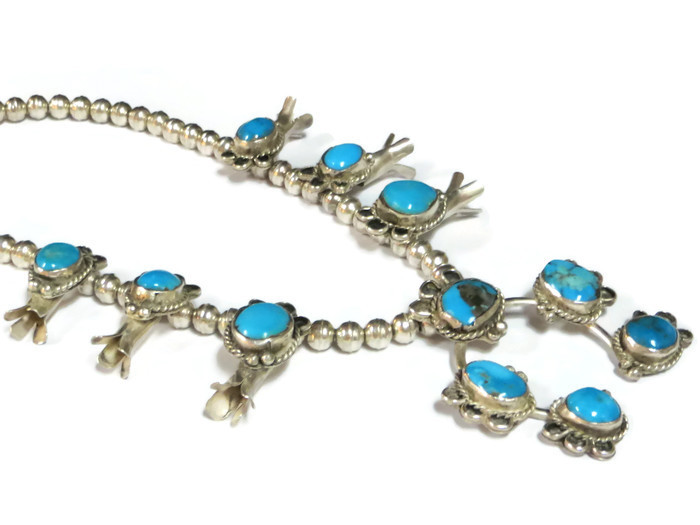 A common question I often hear is "How do I clean my squash blossom necklace?" This is actually pretty easy to do and there are a few methods that you can use to clean a squash blossom necklace. A friend recently asked me to clean her squash blossom necklace for her so I will show you how I will go about cleaning this for her. This is a sterling silver squash blossom necklace from the 1980's with turquoise and is strung on wire cable. There a few cleaning products to choose from. I am choosing to use a liquid cleaner and this is what I will need:
Hargety's Silver Clean
Q tips
Polishing cloth
Soft bristle tooth brush
Water
Towel


Since the squash blossom necklace has turquoise stones, I will make sure not to get the liquid cleaner on the stones. If this was not strung on wire cable, I would choose a different method and cleaner also. I will start with applying the cleaner to the silver work and around the silver beads with the Q tip. To reach and work in the liquid cleaner around the scroll work silver designs I will lightly use the soft bristle tooth brush to do so. Since this is strung on wire cable I can dip the silver ends by the clasp with cleaner to hasten the job.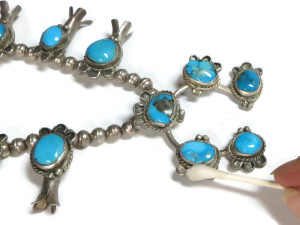 To finish, I will quickly and lightly rinse with water then pat dry with a soft towel. I will let this air dry before using the polishing cloth to give it the final shine. Pretty quick and easy! This only took 20 minutes plus drying time. Ready to wear!
Time: 20 minutes

Some of the other products that can be used to clean your Native American jewelry and turquoise jewelry: